The Saxion Blockchain Research Group conducts interdisciplinary research into which issues Blockchain is suitable for, under which conditions, for which organizations Blockchain is interesting and what the impact is. The research group develops methods and tools for Blockchain applications and their implementation.
In 2020, the research group Blockchain has started a valuable collaboration with the Bitcoin Association. A result of this collaboration is the development of a series of Blockchain MOOCs. These MOOCs series starts with a Bitcoin basic course for policy makers, followed by more technically advanced Bitcoin development courses. The MOOCs can be found at mooc.saxion.nl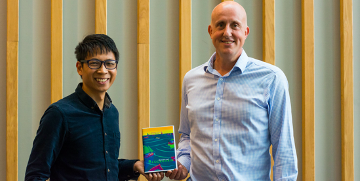 Prior to this series of MOOCs, an open textbook has been released by the research group Blockchain with the title Blockchain Basic Book. The book is written by Arthur Janse and Chhay Lin Lim, both lecturers at the school of FEM and researchers at the research group Blockchain.
Chhayy: "We have written a book that we missed in the Netherlands. Many books are very basic. I couldn't find anything that had the depth that I needed to really explain the blockchain concept to our students".